You will notice that they are two names on this Road-Train, North
line is a transport company but they pay Bulls transport to line haul
between the southern city of Adelaide to the northern city of Darwin
through the vas Outback of Australia, three thousand three hundred
miles one way.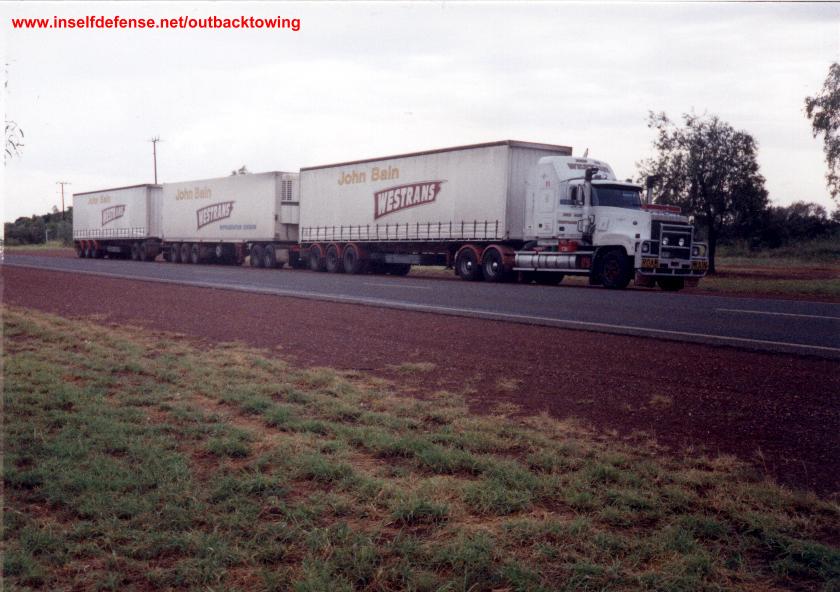 I took this photo on the out skirts of Tennant Creek in the Northern
Territory some 1605 K.m.s south of the city of Darwin, he was
heading south to the city of Alice Springs.
The driver was in the middle of checking for flat tyres, these long
Rigs on the long hauls when the road is so hot they blow tyres offen,
its not unuasal to blow three tyres on one trip.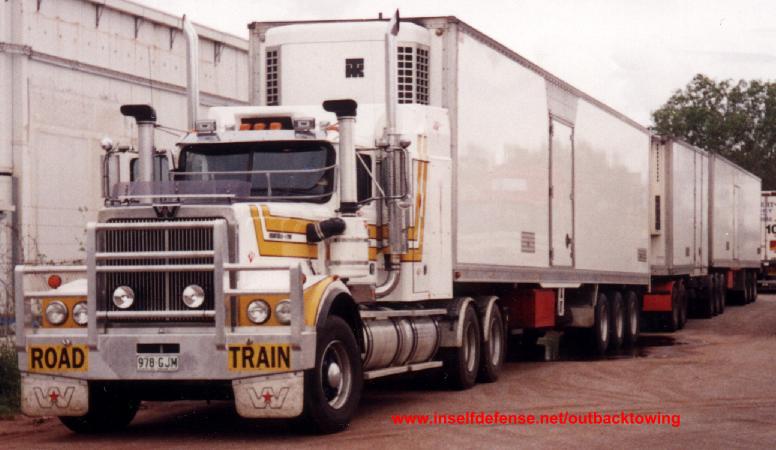 Above: This photo gives you a good look at the Bull bar on the front
of the truck, as well as large kangaroo's the cattle stations
(Ranchers) do not have a lot of fences so it is not unusual to have
cattle in the middle of the main north to south highway.
Above: This photo was taken at the Road-Train depot at Port Augusta,
this is were the Road-Trains are brocken up from three or more
trailers to two trailers only, for the last leg of one hundred and fifty
miles into the big city of Adelaide
Above: This photo gives you a look at the way we load the trucks
for the trip back.
Most of the fright goes one way from our southern and eastern
states were most of our people live, so much of the time the
trucks travel back empty.
As you can see we use a lot of flat bed trailers so on the way
back we can load the empty trailers on top of each other,
it saves a lot of money of tyres and bearings.
You can also get a good look at the dollies we use that go under
the front of the trailers that make up a Road-Train...
Below: You have seen trucks on the back of trains, but have you ever
seen a train on the back of a truck.
In Australia railways are few most fright goes by road and the Road-
Train is the best way to move it, thousand of miles though the vast
Outback of Australia from the city's in the south to the city of
Darwin in the north and to the city of Perth in the west.
Above:You often find tourist from overseas taking
photos of our Road-Trains, you will find most of the
truck drivers happy to take the time to talk to tourist.
Above: This is what it looks like driving a car passing
a Road-Train head on ( Thank my brother Garry for
the photo taken from his car)
This photo was taken on the main north south
highway from the city of Darwin to the city of
Adelaide, you will notice we drive on the left side of
the road.
As you can see it is a single lane highway, no freeways out here.
BOOK
The trucker's job-so vital to our nation's everyday life-makes for a diverse treasure trove of stories.
This first-ever collection of stories about Aussie truckers captures the humour, tragedy and fascinating history of their world, proving once again that truth is often stranger, funnier and more inspiring than fiction. The unlikely yarns and tales, collected by Jim Haynes, quickly transport the reader into the intriguing but often hard and lonely world of the long-distance truck driver.
There are stories of endurance while crossing the Nullarbor in the early 1950s, of rescuing mates stranded in the desert and dumping wheat in protest at Parliament House, of repossessing vehicles in suburban Adelaide, and of men imprisoned during the long political battle to make the roads of Australia free to carry freight. Steeped in larrikinism, these are salt-of-the-earth Aussie voices from the most genuine characters to ever spin a yarn.
Whether you're interested in one of the most significant social revolutions to have shaped our nation, or in these never-say-die modern pioneers who astound with their resourcefulness, or whether you're just after a laugh and a bloody good story, this book is for you.
The transport industry plays an important role in the
strategic and economic development of our huge country, so road trains and large trucks are a necessary fact of life on our highways. , I would like to pass on a few pointers that might be helpful when you are confronted by one of these monsters. A double road train is around 35 metres long and weighs nearly 80 tonnes while a triple road train weighs up to 115 tonnes and is about 53 metres in length,so they do deserve our respect.There are several things to consider when overtaking or being overtaken by a large rig. These include: Stopping times A heavy truck takes longer to pull up than lighter and smaller vehicles. Rear vision The driver of a heavy vehicle may not be able to see you in his mirrors if you are travelling too close behind. If you can't see his mirrors, he certainly can't see you. Passing times Overtaking or being overtaken can take considerable time so you need to be able to see at least three kilometres ahead before attempting to pass. If it's dusty and visibility is impaired, don't even think about passing. While most drivers of these big rigs are professional, there are still a few cowboys around so you must make judgements based on common sense and, most importantly, safety. If you are at all nervous about the situation, pull over, make a cup of tea and proceed when the road is clear. One of the most common reactions of drivers when they see a truck coming up behind them is to prop or reduce speed and, in some cases, drop their left hand wheels off the side of the road. This has the effect of causing the truck driver to reduce speed, thus making it difficult for him to gather the momentum needed to safely overtake. The best thing you can do is to maintain your road speed until the road train or truck is alongside then slow down and, if safe, ease to the left. If you want to pull over before the truck passes, try to get right off the road. A UHF radio is always helpful in these situations as the truck driver can tell you when he wants to pass or if it's safe for you to pass him When confronted by a large, overwidth load, follow the instructions of the escort vehicles. They may sometimes ask you to pass via the right hand verge, but if you find this a bit scar just hold back and wait a while perhaps until the convoy stops for tyre checks, which they normally do every 100 kilometres or so. When it's all boiled down, there's one unchangeable rule that you should follow when sharing the highways and byways with road trains and other heavy vehicles always err on the side of safety!