This page 25 more photos, plus text and Paul's
story six thousand kilometres every week.
Below page my Road-Train story's (text)
plus Road-Train specification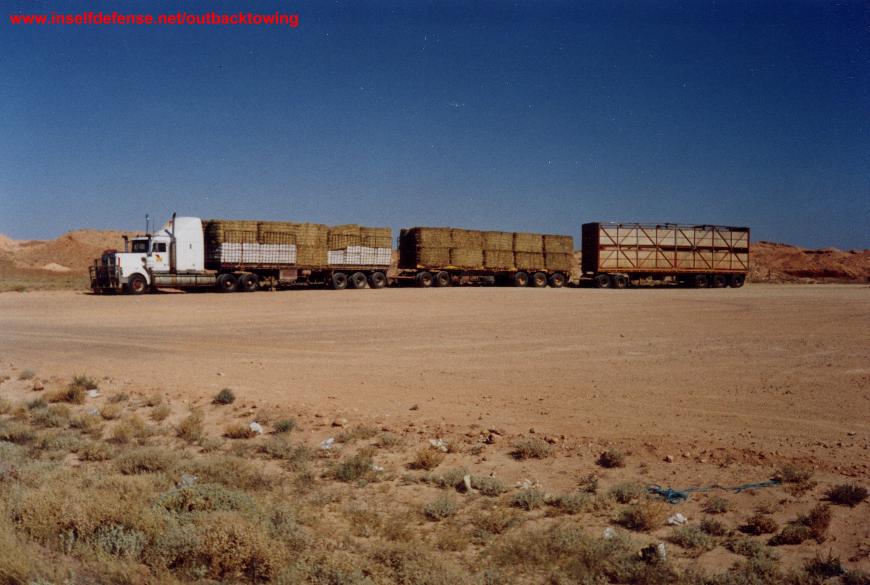 This photo was taken just out side of the small town of Coober
Pedy 552 K.m.s north of the city of Adelaide, its' that hot and
dry there that most of the homes are built under ground.
Coober Pedy is a mining town it is the best place on the earth
to dig up opals, they found it was cooler under ground so they
live under ground in homes that are better than some homes
you find in our big citys.
Below:
Bulls Transport is one of the oldest and biggest transport
company's that do the long haul from the southern city of
Adelaide to the northern city of Darwin 3300 k.m.s one way.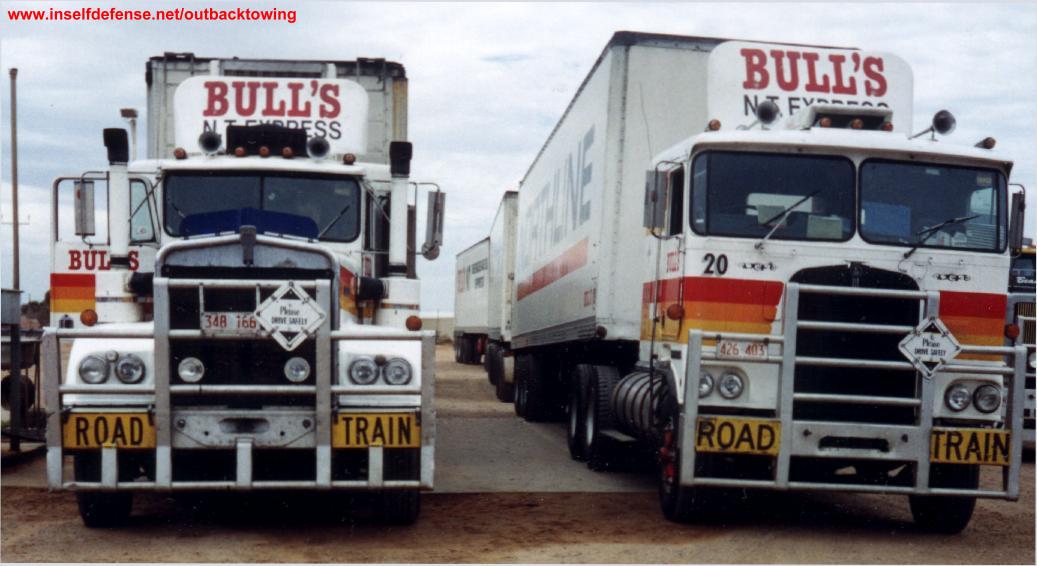 Below: As you can see from this photo Road-Trains use a lot of
flat bed trailers, that is because when they are empty on the way
back they can carry empty trailers on top of each other which
make's the return trip easy and quicker, plus it makes tyres
and wheel bearing's last a lot longer.
All the Photos below were E-Mail to me to be
used on this web site, I don't own the photos
Here's two photos of Hampton Transport fleet, they are located
at Noonamah in the Northern Territory forty K.m.s south of the
city of Darwin, they are one of the largest livestock
movers in the Outback of Australia.
Hampton Transport is also very big in earth moving
Above: This is one of Broome Freightlines Road-Trains,Broome
is a small town on the north west cost of Australia as far away
from our bigest city of Sydney over four thousand miles away.
The bigest industry in Broome is fishing and tourist, they come
from our cool southern states in our winter from May through
October.
They have a lot of tourist from over sea's, Broome is also the
best spot on earth to harvest Pearl's.
Below: This photo shows four of our Road-Train drivers, you
will notice that only one of the drivers is wearing long pants
and others are not wearing boots just flipflops.
It is normally hot so their dress is cool and layback, some of
our drivers do not were any footwere at all when driving
through the hot dry Outback of Australia.
Above: This is one of Troncs Carrying Road-Trains, the Troncs
company is one of Australia's largest trucking company with
over one hundred trailers.
N.T.F.S. Pty Ltd began operations from

their Adelaide depot in February 1975.

The Company now has depots in Alice

Springs and Darwin with Agents in

Tennant Creek and Katherine.

N.T.F.S. owns all the Trailing Equipment

along with a number of Company Prime

Movers and then employs Linehaul

Subcontractors to haul the other Vans

and Trailers to the required destinations.

The type of freight hauled by N.T.F.S.

varies from mixed loads, including

Building Materials, Fertilizer, and

Computers, to both Frozen and Chiller

refrigerated products.

A twice-weekly Express Road Service is

currently operated between Adelaide

and Darwin to service urgent freight

requirements and fresh vegetables into

the Northern Territory and a daily

Refrigerated road service to Alice Springs

carrying milk and perishable foodstuffs.
The longest road train ever
assembled was 1,018.2 m (3,340 ft) long and consisted of 79

trailers with a
combined weight of 1,072.3 tonnes (2.364 million lb). It was

pulled a distance
of 8 km (4.9 miles) by a Kenworth C501T truck driven

by Australia's Steven
Matthews, near Kalgoorlie, WA, Australia, on October

19th, 2000 in an event
known as 'Doug's Tug', after organiser Doug Gould.

As seen in the Guinness book of world records.



Above:

Perth-based road-train operator Paul Wonbon has been running from Perth to Kununurra in the Kimberley for 10 years, so when he bought a new Freightliner Century Class, people took notice. Pauls C-120 has a 140 tonne GCM rating, and is powered by a 600 hp Caterpillar C-16through an 18 speed Eaton gearbox to Meritor drive axles on Neway air-suspension. Tank capacity is 1,815 litres of fuel. He runs two-up with sons Tim and Ian, and covers 6,000 km per week carrying freezer, chiller and general freight north and returning with fresh produce from the Ord River Irrigation District. His truck has notched up 110,000 trouble-free kilometres in the five months since he bought it. Pauls previous truck was a Kenworth T950, also with Cat power, in which he did 1.4 million kilometres. But the extra room in the Freightliners wide cab and the big sleeper played a large part in his switch to Century Class. "The new truck is a lot easier to drive, lots smoother thanks to the air-suspension and very comfortable," Paul says. "The air-conditioning is beautiful and we need it that waywith temperatures in the 48-50C range up there right now. In fact the cab stays so cool we need to use a doona when we are sleeping. "I think the Century Class is just a better design. It has better visibility with the sloping bonnet and Im getting better fuel consumption than other guys with the same engines in T904s and Western Stars," Paul adds. Paul started on the Kimberley run as a company driver for Gascoyne's which became WesFarmers and was recently taken over by Tolls. Six years ago he became a sub-contractor and was joined by his sons "a couple of years ago". They leave Perth Tuesday evening with two trailers, picking up a third at Wubin, 230-km north. They pull into Kununurra on Thursday afternoon, leaving at lunchtime Friday for the run south and drop their trailers back in Perth at 5 or 6 am Sunday morning. That run goes regularly as clockwork but there are occasional side trips like one to an isolated aboriginal community recently to bring them enough supplies to last out the wet season. "They can get cut off for up to six months," Paul says. Six thousand kilometres a week with triples is moving right along. Paul reckons he has covered a million kilometres in the last 3.5 years alone during his 30-year accident- free driving career. Pauls move to Century Class reflects the increasing importance road-train operators place on cab comfort, ride quality, inside space and cab crashworthiness combined with US drivelines. Freightliners 140 tonne GCM rated Century Class and Argosy prime-movers are spearheading Freightliners move into the heaviest end of the Australian truck market. Australian spec Century Class and Argosy heavy trucks come standard with a 90 tonne GCM rating and electrical systems built for multi-trailer operations. They have been B-double, B-triple and road-train doubles rated since their Australian launch. Freightliners are sold and serviced in Australia by an extensive national dealer network. Freightliner is a wholly owned subsidiary of DaimlerChrysler
My other Truck web site (Link)
Road-Train specification is South Australia .
Permits for longer vehicle can be obtain for particular runs.
Trucking on Dirt
Roads